*brought to you by Seventeen magazine

It's a pretty lame month for the magazine this time out. Which is to say, there's not nearly enough stuff for me to make fun of. Hillary Duff's on the cover, but she's too easy a target. I did spy this, however, in a section on how to make the right first impression on returning to school: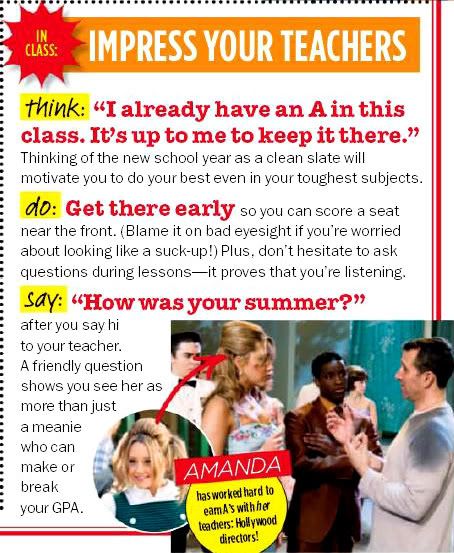 Let's see...
* "I already have an A in this class. It's up to me to keep it." Uhhh, wrong. You don't have an A. You have a zero. And as soon as you blow off your studying to read Seventeen's beauty tips, then run to the store to buy all the Garnier Fructis they tell you that you need, you'll get, at best, a C on your first test. And then guess what you've got in the class. Go on, guess. (It's a C.)
* "Get there early so you can score a seat in the front." Nice attempt reverse psychology, Seventeen, but even the most naive 13-year-old freshwoman knows that no cool kid sits up front, and anyone reading your magazine obviously wants to be cool. They're going to see right through this advice. But maybe that was your plan, you evil geniuses.
* Say "How was your summer?" This is a sure-fire way to let the teacher know that you're a suck-up, right from the start. Knock yourself out, girls.
That's really all I've got from this month's issue. So on a Moronic scale of 1 to 10, I'd rate this issue as "super lousy."